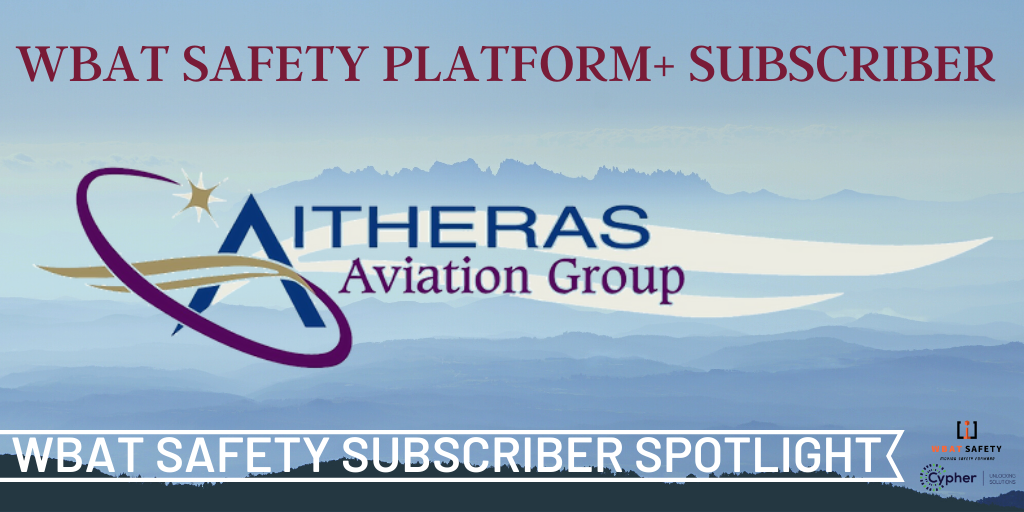 WBAT Safety's Subscriber Spotlight series highlights different subscribers of the WBAT platform. The series aims to recognize our various valuable subscribers and the different ways the WBAT platform is used.

This edition of WBAT Safety's Subscriber Spotlight features responses by Clyde Cruse, Director of Safety at AITHERAS Aviation Group (AAG), a Part 135 fixed-wing operator with 50 employees and over 20 years of experience transporting patients, organs (for transplant), and individuals, both domestically and internationally. AAG is the first and one of the few fixed-wing air ambulance companies to attain the highest FAA safety rating in the SMSVP—ACTIVE CONFORMANCE. In addition, AAG regularly achieves ARG/US Platinum rating among other certifications. AAG and its affiliated company Acute Air Ambulance together group the highest level of professionalism in the air medical industry, gathering a thoroughly trained flight crew that meets the highest safety standards in the industry with a compassionate medical team that not only provides top-notch medical support to a patient, but does so with empathy, understanding, kindness, and human values.
---
How do you use the WBAT platform? Aitheras Aviation Group utilizes the WBAT platform in multiple aspects, including Risk Management, Safety Assurance, Communications (both critical [Safety Notices] and non-critical), and storage of important company documents so employees can access them from remote locations.
What do you consider the most useful part of the WBAT platform? For our company, all of WBAT is important as this was one of the core tools that helped us achieve "Active Conformance" in the SMSVP in 2018; however, if we had to choose only one portion of the platform that we could keep, then it would be the Hazard Reporting/Risk Management area of WBAT. Collecting data across all departments and mitigating reported risks is key to our continuous improvement and an integral part of our operation.
Please identify a recent safety issue or problem you identified in your data: Through a hazard report, it was identified that a certain aircraft in the fleet having a radio knob layout different than the other aircraft led to pilots accidentally turning down the radio volume when changing frequencies.
Please explain how you mitigated the issue or problem: Upon investigation of the root cause, we determined that mitigation could be achieved through a process of communicating the issue in detail to the entire pilot group and giving them training on a proper procedure for this particular radio that would prevent future volume decreases, then documenting pilots had received training.