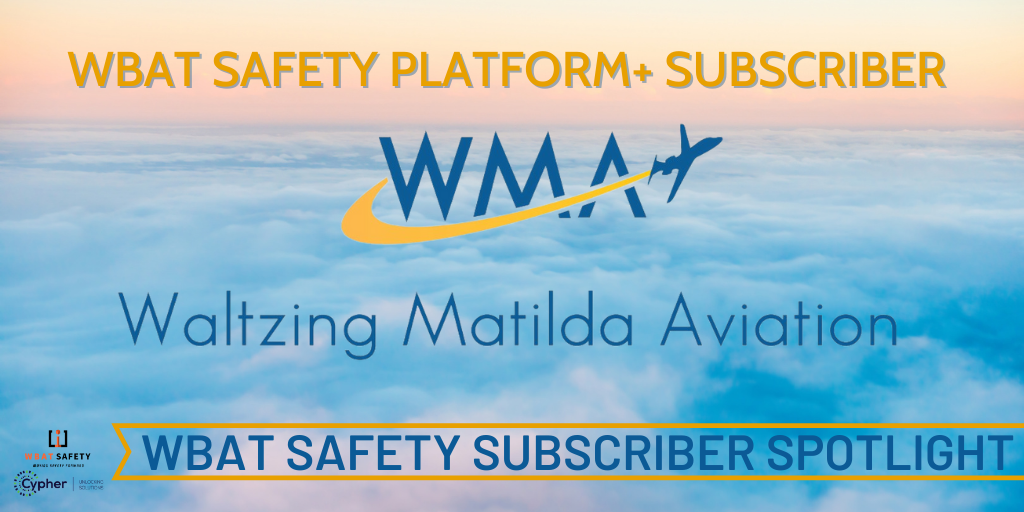 WBAT Safety's Subscriber Spotlight series highlights different subscribers of the WBAT platform. The series aims to recognize our various valuable subscribers and the different ways the WBAT platform is used.

This edition of WBAT Safety's Subscriber Spotlight features responses by Devan Wiebe, Director of Safety/Security at Waltzing Matilda Aviation, a Pre-Certification Air Carrier with 90 employees based out of Bedford, Massachusetts.
---
How do you use the WBAT platform? WBAT has many functions that are useful for performing the SMS functions for our carrier. Most importantly, it has been a tool for training those in management on how to perform risk assessments on our processes as they are being developed and documented in the company manual set.
What do you consider the useful part of the WBAT platform? The most helpful part of WBAT has been the Safety Assurance module, where we have been able to set up and track over 90 different audits for the operational functions of the airline. Tracking findings and corrective actions is easy to do by assigning them to the responsible individuals. Safety Risk Management is also useful and is able to be performed regularly from Safety Reports that are submitted, audit findings that are issued, as well as the Safety Risk Management module in the system.
Please identify a recent safety issue or problem you identified in your data: Our dispatchers submitted a report that the satellite communications product that we use for tracking real-time data on aircraft in flight was not communicating updates in less than 5 minutes. This is a safety and operational control issue that was identified to be mitigated.
Please explain how you mitigated the issue or problem: Working with the existing product developers to get live data to update more regularly was one action item. But we also decided to obtain back-up tracking systems that would give real-time data, such as a FlightRadar24 subscription to supplement the primary tracking system and provide more real-time data of aircraft in flight or on the ground.