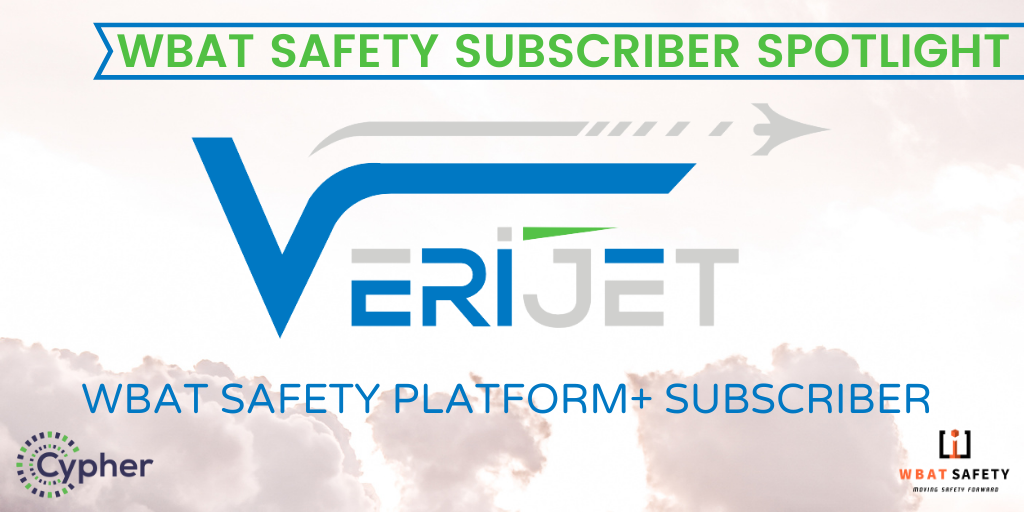 WBAT Safety's Subscriber Spotlight series highlights different subscribers of the WBAT platform. The series aims to recognize our various valuable subscribers and the different ways the WBAT platform is used.
This edition of WBAT Safety's Subscriber Spotlight features responses by Carlos Veliz, Director of Safety at Verijet, a Part 135 Private Charter operating the SF50 Vision Jet. VeriJet is based in Opa-Locka, FL, and has 64 employees.
---
How do you use the WBAT platform? The WBAT platform is used throughout our organization as the main SMS database for collection of reports, tracking, data analysis, safety risk management, and safety assurance functions. WBAT has many tools, and we are using the most essential ones to collect information and disseminate that information to our leadership. We are using both the web- and app-based versions for reporting.

Most useful part of the WBAT platform: Obviously safety reporting is our most used part of the WBAT platform; however, the queries that can be developed to extract information from these reports are also very helpful. Queries give us a powerful macro and micro look at the underlying data and allow us to drill down to key issues.

Please identify a recent safety issue or problem you identified in your data: One of the more common reports that we receive is excess baggage. The SF50 is considered a Very Light Jet (VLJ) so excess baggage can be a problem. We have identified several hazards associated with excess baggage, including the possibility of injury due to improper lifting.

Please explain how you mitigated the issue or problem: Since receiving reports on excess baggage, we have begun a customer awareness campaign to ensure all brokers are aware of the aircraft's limitations. We ensure passengers are made aware of loading limits during the booking process. In addition, we have issued awareness training to all crews on proper back injury prevention and lifting techniques. This information is now routinely communicated through our SMS promotion efforts and made a part of employee indoctrination training.