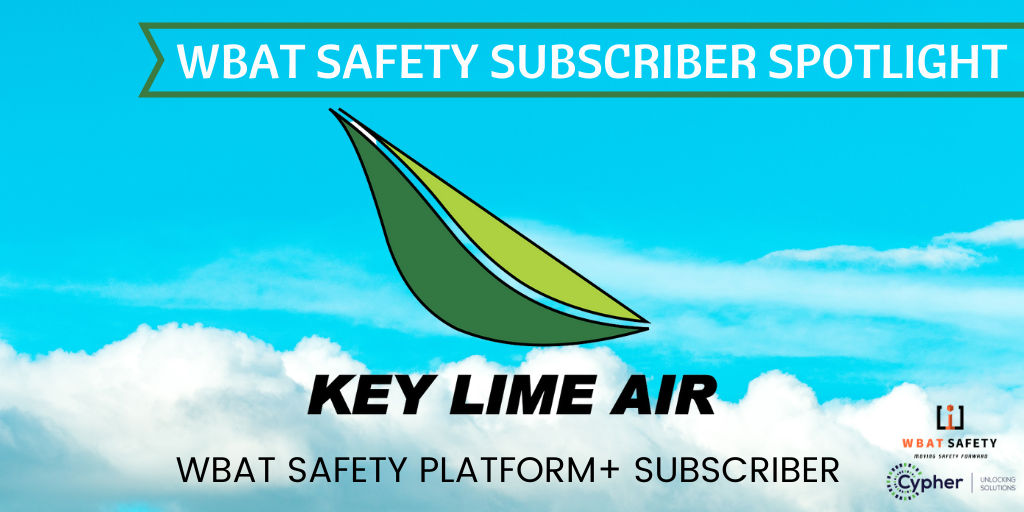 WBAT Safety's Subscriber Spotlight series highlights different subscribers of the WBAT platform. The series aims to recognize our various valuable subscribers and the different ways the WBAT platform is used.
This edition of WBAT Safety's Subscriber Spotlight features responses by Michael Giovannini, Director of Safety at Key Lime Air (dba Denver Air Connection). Based at Centennial Airport in Englewood, CO, with 150 employees, Key Lime Air conducts part 135 cargo and charter, and part 121 passenger service. Key Lime Air's diverse fleet is comprised of 23 Metroliners, 5 Dornier 328 Jets, 3 ERJ-145s, 1 EMB-120, and 1 ERJ-135, averaging over 13,000 flight hours each year.
---
How do you use the WBAT platform? We've been Platform+ users for six years and used WBAT for our SMS VP/Part 5 implementation. We're using the Safety Assurance component to manage our IEP audits, Safety Risk Management for SRAs, and Employee Reporting for hazard reporting and ASAP for pilots, mechanics, dispatchers, and flight attendants.
What do you consider the most useful part of the WBAT platform? How to pick just one?! As our SMS has matured over the last five years, I'd say the Safety Risk Management component has been the most useful. Being able to document SRAs in a way that clearly shows the hazards, risks, risk controls, and associated risk levels has enabled us to be more efficient with our risk management processes.
Please identify a recent safety issue or problem you identified in your data: Recently, a proactive flight attendant submitted an ASAP pointing out a need for clarification and a possible manual interface issue regarding lap child requirements.
Please explain how you mitigated the issue or problem: We were able to take the above-mentioned ASAP event and create an SRA from it. The SRA clearly outlined the issue, which involved several departments, process owners, and three manuals. Through our risk management processes, we safely implemented the changes needed to provide clearer guidance for our employees and ensured continued regulatory compliance. Being able to see how all the pieces fit together in an SRA allowed the team to work together more efficiently to make the improvements needed.