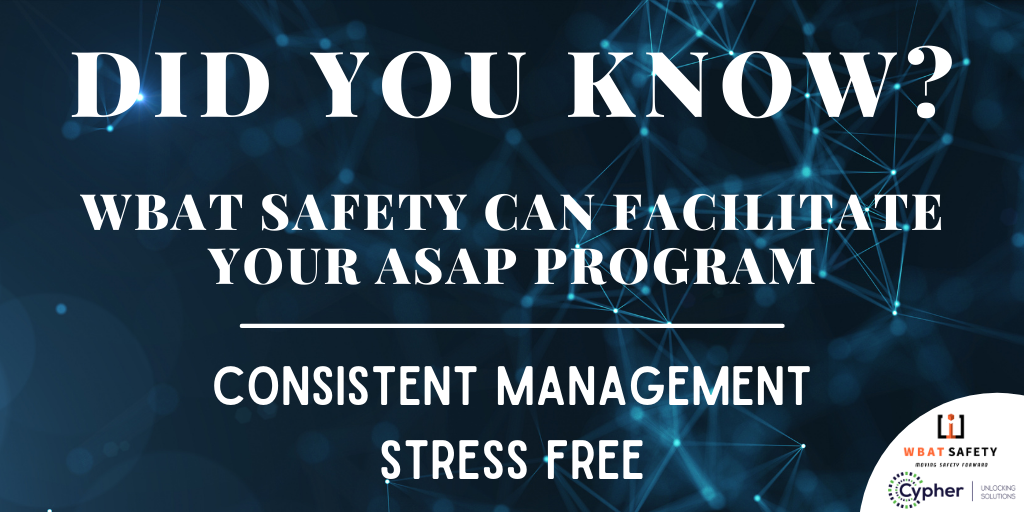 Are you ready for a stress-free ASAP program? The recent pandemic has disrupted many operations—it's time to say goodbye to the stressors of the constant changes to your organization's ASAP program!
You can greatly reduce your stress by allowing WBAT Safety's ASAP Managers to fully manage your ASAP program. We currently facilitate about 45 ASAP programs including operators from 141, 135, 121, and 91 types. Get the most value out of your operation by keeping your pilots flying without having to worry about running an ASAP program. Let us do all the work! Our ASAP Managers will provide consistent and reliable management, taking the burden off your team.
Is your organization hoping to develop an ASAP program? WBAT Safety offers various employee training options, manuals, and much more to alleviate the stress that comes along with starting an ASAP program.
ASAP is a voluntary, self-reporting program designed to identify and mitigate possible safety concerns. ASAP uses employee input to identify significant safety concerns and issues, operational deficiencies, non-compliance with regulations, and deviations from company policies and procedures. Each report is reviewed, and corrective actions determined based on a non-disciplinary approach to flight safety. WBAT Safety is willing to assist any operator that wishes to facilitate its own FAA-compliant ASAP program and provide a reporting platform for a reasonable, realistic price.
WBAT Safety is the sole FAA-supported Safety Management System (SMS) program available on the market and was awarded a 5-year contract by the FAA in early 2020. WBAT is a web-based system that supports all aspects of SMS, including safety policy, safety risk management, safety assurance, safety promotion, and SMS recordkeeping and documentation.
Watch our ASAP video to learn how WBAT Safety's ASAP Managers can provide all of your ASAP facilitation services! To learn more, email a WBAT Safety Expert at info@wbatsafety.com to schedule a free demonstration.