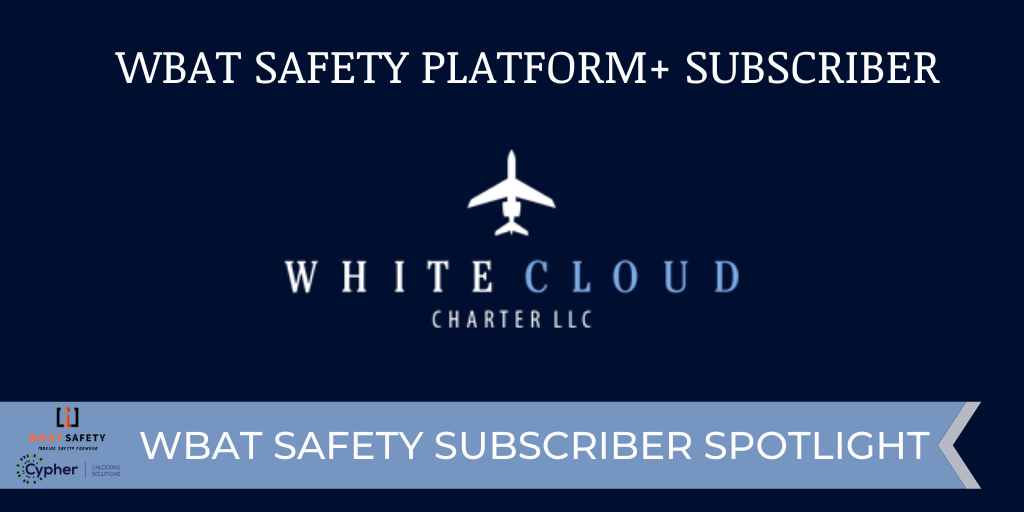 WBAT Safety's Subscriber Spotlight series highlights different subscribers of the WBAT platform. The series aims to recognize our various valuable subscribers and the different ways the WBAT platform is used. This edition of WBAT Safety's Subscriber Spotlight features White Cloud Charter LLC, a Part 91/135 air charter company based at Westchester County Airport in White Plains, NY. White Cloud Charter is a lean company with aircrew, maintenance technicians, and a few administrative personnel, totaling just under 20 employees.
Bill Zink, SMS Director at White Cloud Charter LLC, discusses how his organization uses the WBAT platform:
---
"We have maintained a Safety Management System (SMS) for several years. We are currently Stage 3 with IS-BAO. At one of our SMS meetings, it was decided we would offer the Aviation Safety Action Plan (ASAP) to our employees.
"We decided to use the WBAT platform to input safety issues or problems encountered by maintenance and flight crews. This platform afforded us all we needed to track issues, do a risk analysis, assign individuals to investigate, and communicate to the FAA's ASAP Team.
"While going through the gap analysis to apply to the FAA to convert our SMS to an FAA-approved program called the FAA SMS for voluntary program (SMSVP), we found the ASAP module in WBAT worked perfectly for what is needed for safety-issue documenting in an SMS. So, we adjusted the module to choose what action is taken when logging in. You can select either ASAP or SMS. ASAP items go to the FAA and SMS is resolved in-house through our SMS plan. The WBAT platform is working out great for this.
"Once you write up an issue, you can do risk assessment and act. We have been using this to track facility inspections, safety meetings, and all the requirements of our SMS manual. We've had crew issues, where we got maintenance involved, and came up with a viable solution to not only help in this case but presented a good cause to remind everyone of things already in place to get answers. It is becoming a good tool for both ASAP and SMS. The more we use it, the easier it becomes."