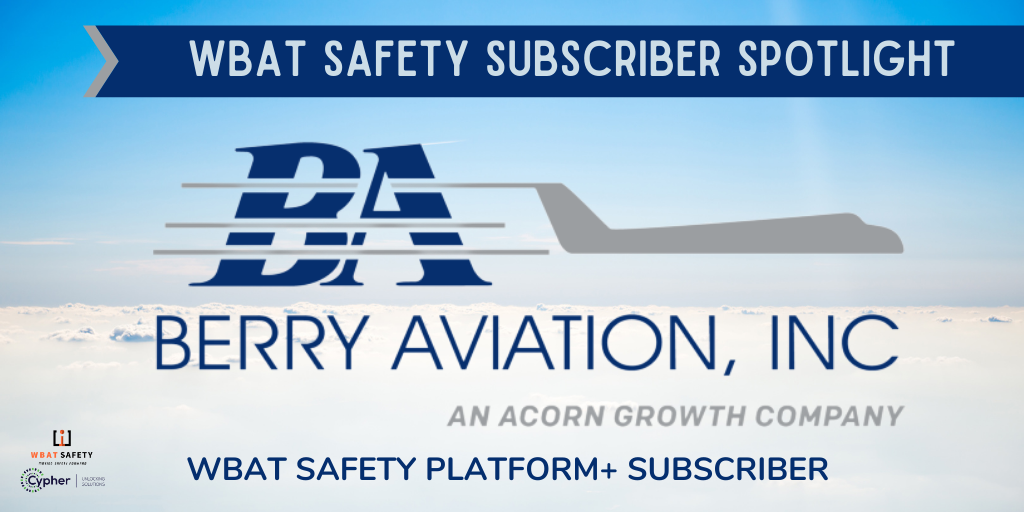 WBAT Safety's Subscriber Spotlight series highlights different subscribers of the WBAT platform. The series aims to recognize our various valuable subscribers and the different ways the WBAT platform is used.
This edition of WBAT Safety's Subscriber Spotlight features responses by Joseph Rose, Director of Safety at Berry Aviation, Inc., a Part 135 airline with 305 employees that conducts On-Demand Freight in the Americas and performs DoD contract services around the world, including Afghanistan, Africa, Marshall Islands, and the United States. Berry Aviation provides the DoD with passenger service, passenger/cargo service, cargo, air drop, para drop, air ambulance and unimproved runway operations. Berry Aviation was the first U.S. fixed-wing operator to be approved for night-vision-goggle operations.
---
How do you use the WBAT platform? WBAT is the primary tool for compliance with our SMS program and documenting the safety compliance requirements of the DoD. Safety Risk Management/Analysis, Safety Assurance/Internal Audit Program, and Employee Reporting in WBAT are all key to our operation. FRATs keep us in compliance with DoD requirements.
What do you consider the most useful part of the WBAT platform? Automating our employee reporting system in WBAT.
Please identify a recent safety issue or problem you identified in your data: We had a customer that built a new hanger that requires us to cross an active runway with a fuel truck.
Please explain how you mitigated the issue or problem: We used the Safety Risk Management to create an SRA. This allowed us to analyze hazards, assign risk, and mitigate risks all with WBAT. Using WBAT, we created procedures and checklists, and we also updated fuel truck equipment.