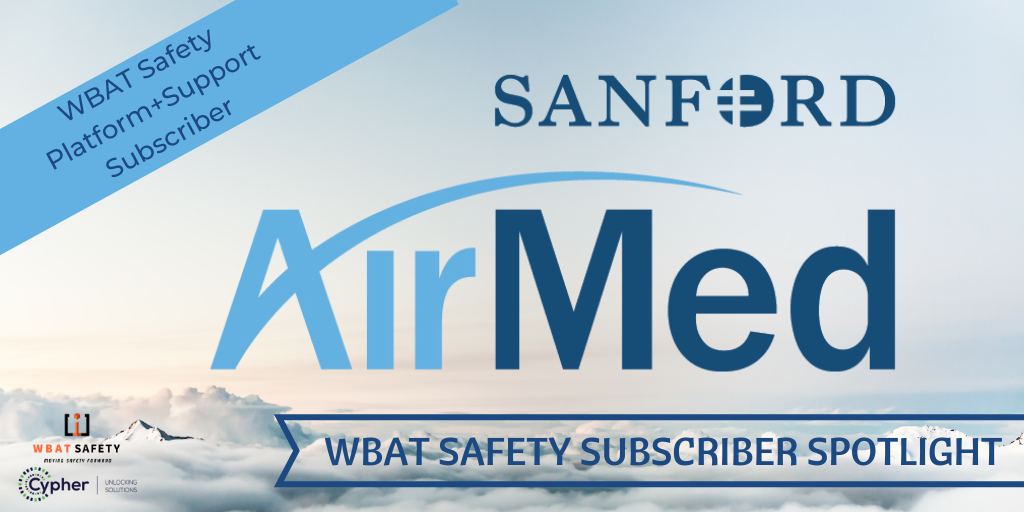 WBAT Safety's Subscriber Spotlight series highlights different subscribers of the WBAT platform. The series aims to recognize our various valuable subscribers and the different ways the WBAT platform is used.
This edition of WBAT Safety's Subscriber Spotlight features responses by Josh Weiland, Safety Director at Sanford Health, an air medical and corporate flight department headquartered in Sioux Falls, SD. Sanford Health employs 80 aviation personnel and includes a fleet comprised of such corporate aircraft as the King Air 200 and EC145.
---
How do you use the WBAT platform? The WBAT platform houses our ASAP program and provides a strong foundation as our ASAP program begins the SMS approval process with the FAA.
What do you consider the most useful part of the WBAT platform? The most useful aspect of WBAT is the customer service provided by the Aviation Safety Specialists. They are always available and willing to help explain components of the SMS or ASAP programs. They understand the complex nature of aviation safety.
Please identify a recent safety issue or problem you identified in your data: A recent safety hazard brought forward was the unintended discharge of a fire extinguisher in-flight, which the resulting investigation found was caused by a faulty seal on the unit itself.
Please explain how you mitigated the issue or problem: The crew identified the strange smell in-flight, donned O2 masks, and landed safely. In the ensuing risk assessment, we acknowledged the importance of training with smoke goggles and O2 masks donned, scheduled inspections of fire extinguishers, and understanding what other hazardous materials allowed in air medical transport are on the aircraft and how to handle any events that may arise from them.