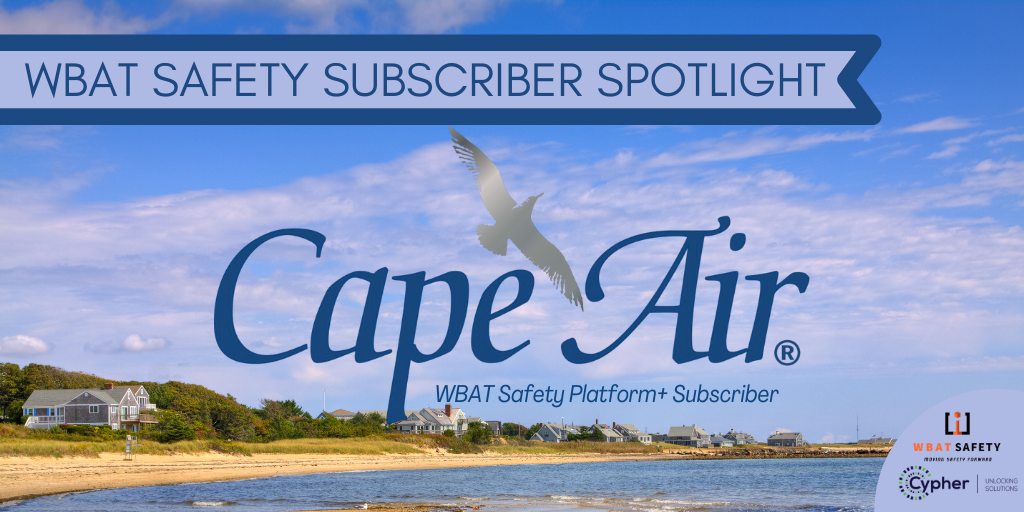 WBAT Safety's Subscriber Spotlight series highlights different subscribers of the WBAT platform. The series aims to recognize our various valuable subscribers and the different ways the WBAT platform is used.
This edition of WBAT Safety's Subscriber Spotlight features responses by Nick Kleoppel, Director of Safety at Cape Air, a Part 135 operation with 690 employees based in Hyannis, MA. Cape Air operates a fleet of nine passenger Cessna 402C, Britten-Norman BN-2, and Tecnam P2012 aircraft, and currently serves small communities out of its hubs in Billings, Montana; St. Louis, Missouri; San Juan, Puerto Rico; and Boston, MA.
---
How do you use the WBAT platform? We primarily use the Employee Reporting module for our ASAP, Incident, Safety, and Fatigue reporting programs. Recently, we have started using the Safety Assurance module to document our IEP evaluations and our company safety investigations.
What do you consider the most useful part of the WBAT platform? The automatic reminders of assigned actions (corrective actions, recommendations, tasks, etc.) to employees. This capability greatly reduces the workload of the safety department to manually track open items and send out email reminders for overdue actions.
Please identify a recent safety issue or problem you identified in your data: One airport's NOTAMs for a construction project were inaccurate and did not align with what the crew members were seeing when operating into the airport.
Please explain how you mitigated the issue or problem: Had a call between company leadership, airport leadership, and engineers for the construction project to discuss the timeline and impacts of the construction project and ensure the airport updated the NOTAMs to accurately reflect the project.