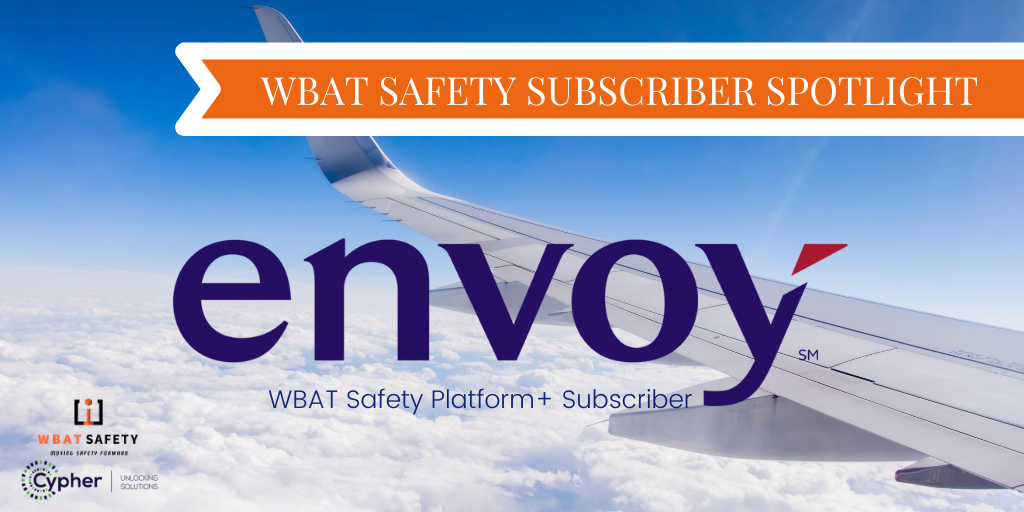 WBAT Safety is pleased to introduce our Subscriber Spotlight series, which highlights different subscribers of the WBAT platform. The series aims to recognize our various valuable subscribers and the different ways the WBAT platform is used.
This edition of WBAT Safety's Subscriber Spotlight features responses by Tim Crabb, the Manager of System Safety at Envoy Air, Inc., a regional airline with approximately 18,000 employees. Envoy is a wholly owned subsidiary of American Airlines Group, which operates more than 185 aircraft on 1,000 daily flights. (Note: Reduced schedule during Covid-19 pandemic approximately 445 flights.)
---
How do you use the WBAT platform? Primary safety reporting platform. (ASAP, fatigue, and LOSA reports; FAA safety concerns; investigations)
What do you consider the most useful part of the WBAT platform? Johanna Hawkins and the availability of the Help Center! The flexibility and support to retask various report types to try new ideas. For example, repurposed the unused ASAP and Incident report types for use by the FAA to replace letters from the FAA/CMO to Envoy and replaced the FAA's online VDRP with a WBAT report, entering FAA safety concerns directly into our Safety Management System (SMS).
Please identify a recent safety issue or problem you identified in your data: Fatigue reports identified a hotel with nearby railroad tracks and train horns that would sound during the night, interrupting crew rest.
Please explain how you mitigated the issue or problem: Changed overnight hotel.